See beautiful Christmas lights and displays all over the Bayou City!
It may be a holiday tradition to see Christmas lights around your neighborhood, kids piling into the car and riding around town looking at all the pretty lights. There are many places to view holiday lights and beautiful seasonal displays in different areas of Houston. Read on to plan your  light-seeing excursion.
DOWNTOWN
Hello, Trees! A Walking Serenade
Nov. 18, 2017-Jan. 25, 2018
Inspired by the century-old oaks at the heart of Discovery Green and the nonverbal cues trees use to communicate, this installation by Montreal art collective Daily tous le jours, is made up of a series of arches under the park's live oak canopy. Speak into input stations at the end of the sculpture and watch your voice message transform into light patterns and music that travel along the arches. On display daily from 6 a.m. to 11 p.m. from November 18, 2017 to January 25, 2018.
Mayor's Holiday Celebration and Tree Lighting
December 1, 2017
Enjoy this holiday tradition, now in its 98th year, in Hermann Square at City Hall. The Mayor's Holiday Celebration and Tree Lighting is a spectacular celebration including music, fireworks, a visit from Santa and more. Bring an unwrapped toy to the Reliant booth for donation to the Salvation Army and get a light-up Santa hat. The event takes place from 6 to 8 p.m. and is free to the public.
Holiday Lights Tour
Multiple dates
Once again, the Houston Wave will take guests on a Holiday Lights Tour to check out all that dazzles and sparkles this holiday season. The tour will start at Market Square Park downtown before embarking on a journey past the tree at City Hall, the giant ornaments at Discovery Green, and the always decorated neighborhoods of River Oaks and the Woodland Heights.
.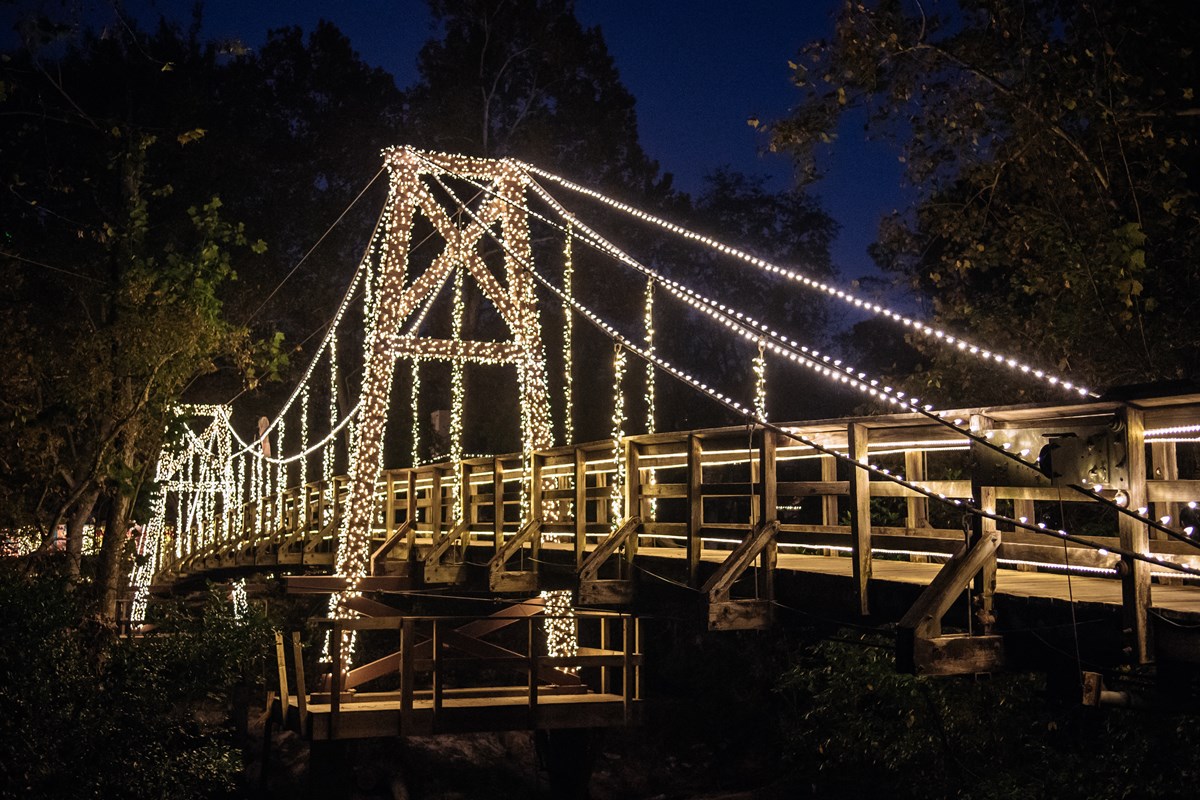 MUSEUM DISTRICT
Zoo Lights 
Nov. 18, 2017 – Jan. 14, 2018
Zoo Lights returns to the Houston Zoo this year with a spectacular display of more than 2 million lights. Sip hot chocolate as you stroll through fifteen miles of twinkling lights illuminating the zoo's oak trees and lighting up its pathways, plus colorful projections, and life-sized animated animal sculptures. Zoo Lights is closed on Nov. 27 and Dec. 14, 24 and 25. Tickets range from $11.95 to $19.95 depending on the night and whether visitors are zoo members.
THE HEIGHTS
Lights In The Heights
Dec. 9, 2017 
Each year, the Woodland Heights neighborhood comes alive for Lights in the Heights on a Saturday evening in early December. But the lights don't go dim in this charming neighborhood until well after Christmas so if you want to avoid the crowds, you can plan to drive or walk around on a different evening. Find a concentration of lights along Highland Street and Bayland Avenue.
SHEPHERD PARK AND CANDLELIGHT PARK
You'll find a lot of large cutouts and dioramas in the Shepherd Park and Candlelight Park neighborhoods' holiday displays. Arches over the streets and big inflatables make this a winner for the kids. The best spot to start is north of West 43rd Street on either side of Ella Boulevard.
RIVER OAKS
December 
River Oaks is one neighborhood you shouldn't miss when looking for the city's best holiday lighting displays. Mansions and estates go all out with grand lighting displays that are a treat to see. A popular stop is the River Oaks Country Club on River Oaks Boulevard. Start there and work your way around the neighborhood; you're bound to see beautiful lights most everywhere you look. While some homes start putting up lights around Thanksgiving, visit in December for better sights, and try to avoid Saturdays when it's busiest.
HIGHLAND VILLAGE
Get in the coastal spirit with beautiful white lights encircling palms along Westheimer in Highland Village's Shopping Center.
NORTHWEST HOUSTON
40th Annual Nite of Lites
Dec. 9 – Dec. 31, 2017
The residents of Prestonwood Forest in Northwest Houston have been decorating their homes in grand fashion since the 1970s. Hundreds of homes participate in the neighborhood's annual Nite of Lites event, which runs for most of December. Neighbors compete in several categories, such as best block, best house, and even best mailbox. Many of the decorations revolve around a theme, such as the Twelve Days of Christmas, Texas Christmas and more. Start on Prestonwood Forest Drive, just off of Texas Highway 249, and take a look at this year's Nite of Lites map to guide your visit.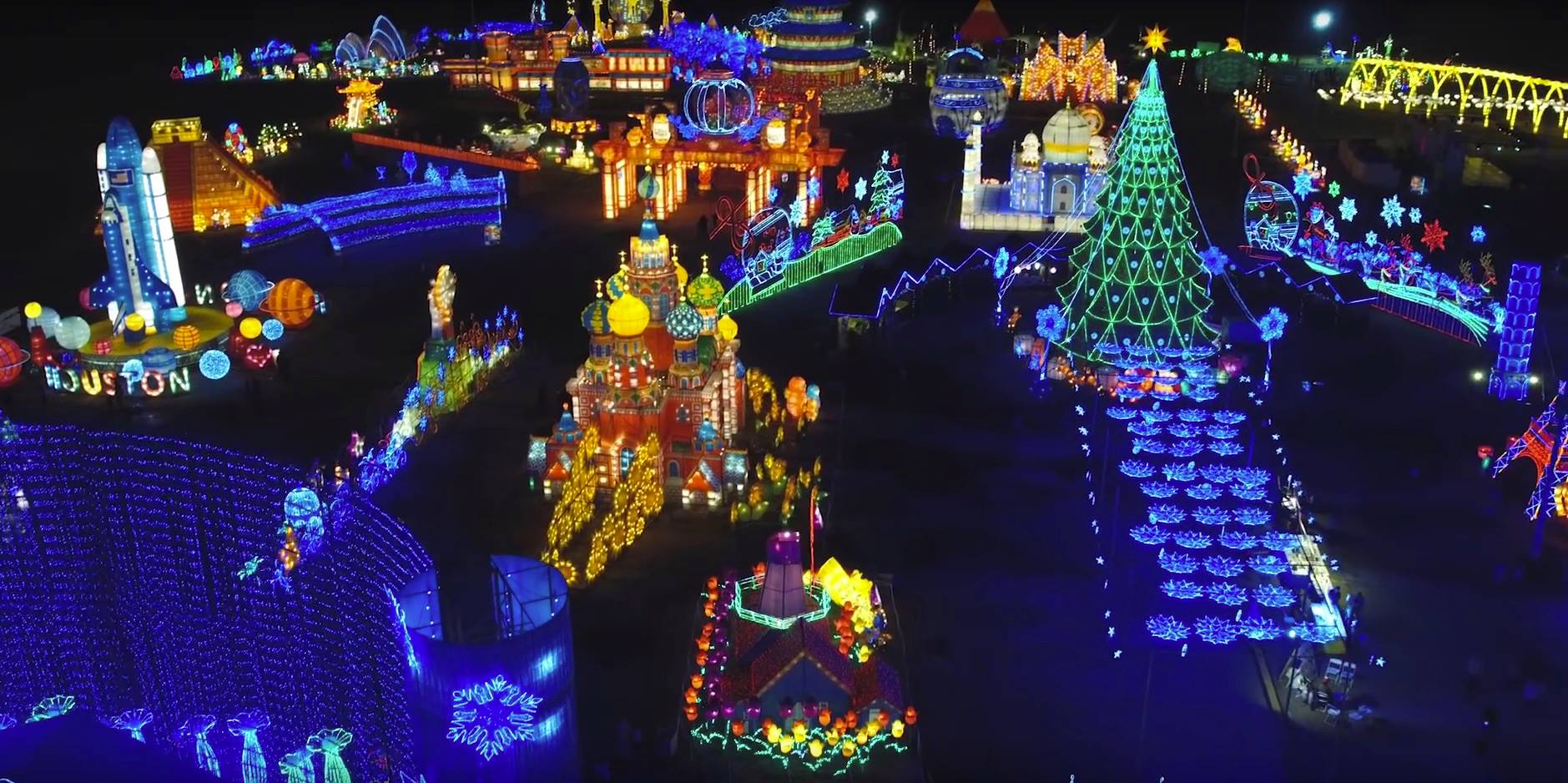 LA MARQUE
Magical Winter Lights
Nov. 10, 2017 – Jan. 2, 2018
This 52-day festival at Gulf Greyhound Park in La Marque, a small city south of Houston, is the largest holiday light festival in the area, and the largest lantern festival of its kind to take place in the U.S.  Magical Winter Lights differentiates itself from other more traditional holiday lighting events by basing its designs on Chinese lanterns and transforming them into larger-than-life remakes of well-known landmarks and landscapes in the world.
SUGAR LAND
Holiday Lights
Nov. 24, 2017 – Jan. 1, 2018
Sugar Land's showcase of lights in Constellation Field features more than 100 walkthrough displays and 2.5 million lights. This year's festivities welcome Santa Claus once again on each night through December 23, along with a variety of food trucks, shopping and children's activities. View the lights from 6 to 9 p.m. Sunday through Thursday and from 6 to 10 p.m. on Fridays and Saturdays. General admission tickets are $14.
GALVESTON
Moody Gardens Festival of Lights
Nov. 11, 2017 – Jan. 7, 2018
For years now, the folks at Moody Gardens in Galveston have been staging Festival of Lights, a huge display of more than 1 million lights along a mile-long trail through the park. The entire family will enjoy the ice rink, pictures with Santa, holiday films and more. Admission is $15.95 per person. While you're there, you may also want to check out Ice Land, an exhibit in which a skilled theme of master ice carvers have charted your course for a journey through the rainforest. A giant ice slide takes you from the tree tops through to the forest floor, ancient ruins and river's edge to prepare for the most joyous time of the year. Admission to Ice Land is $26.95 for adults and $21.95 for children and seniors.
Courtesy of Visit Houston